My wife was chipper when I arrived home on an unexpectedly warm day in the last couple of weeks. She was on the terrace at the back of the house and had poured herself a glass of wine. In the kitchen there were containers of a "shop bought" meal which I was obviously meant to prepare for dinner.
When I greeted her with a kiss, she smiled wickedly and told me to a strip there and then because I looked so hot and bothered after my work.. The terrace is shaded from view by our neighbours by hedging and fencing but not so the rest of the garden.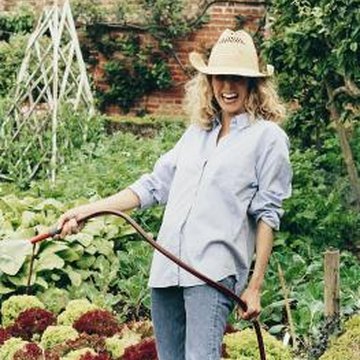 Whilst I took off my clothes without question and placed them on one of the patio set chairs she unreeled the garden hose. I knew what was coming, or so I thought.
I jumped when she turned a cold jet of water on my body. With my hands on my head I could only stand and grimace as the jet searched out every nook and cranny of my slightly overweight body.
Turning off the hose she moved a chair away from the table and called me over, where she bade me to kneel on all fours. She sat down on my back and continued sipping her wine and reading the newspaper whilst my knees became more pain ridden on the stone flags and my arms ached with the strain of keeping them locked to support her.
She scolded me that she didn't think I had been submissive enough recently and that I needed reminding who was the boss. I kept silent. She slid her bottom along my back and ran her hand down the crack of my cheeks. Then she grabbed me at the scrotum and yanked my testicles upwards. I just spoke to you, she said. Yes ma'am, I squeaked in agony. I will be more attentive ma'am. She kept on pulling.
You had better. She shifted her weight and pulled off one of her sandals and began to spank my bare bottom. It wasn't painful and she knew that but it was exciting so I wriggled a bit.
I want you to cook dinner and serve me in the dining room. You can go without, you need to loose weight. She got off my back and I struggled to my feet pushing myself up off my knees. As I followed her she reminded me to bring my work clothes.
An hour later and still in the nude I placed a dish of salmon tagliatelle and a side salad in front of my Mistress. Wine, she demanded, and a glass of water. When I returned with the drink she told me to get down on my knees. She swung sideways on her chair to face me and pulled her skirt up and wriggled out of her knickers. . I caught a glimpse of her shaven pussy before she leaned forward and scrunched up the silk panties and forced them into my mouth. She then turned and proceeded to ignore me whilst she ate her meal and looked at her laptop screen.
I served her with more wine and a cheesecake slice dessert, returning each time to my kneeling position. When she had finished I tidied up the dishes and came back to her to say I was done.
I was going to cane you but now I can't be bothered. So we''ll have session this weekend. You can get on with the laundry and ironing now whilst I watch some TV.
Yes ma'am.
I was slightly disappointed because a part of me was begging for the feel of the cane, right there and then.
However she's the boss so it would just have to wait.